FACESTIM® – Facial Muscle Stimulation
Facial aging is not just limited to skin changes such as lines, wrinkles, and dark spots. The muscles, fat pads, and bones are all affected too, resulting in volume loss and a sagging and sunken appearance with a less defined facial profile.
There is also a decline in collagen and elastin, making the skin drier, thinner, and less elastic.
FACESTIM® by Jovena targets specific muscle groups to sculpt the face, correct certain asymmetries, and address signs of aging. It is a non-invasive treatment that combines bipolar radiofrequency and muscle contractions, which are beneficial in achieving lifted features and skin rejuvenation.
The goal of facial muscle stimulation through FACESTIM® is to:
– Restore the harmony of facial volume
– Improve the texture and appearance of the skin
– Enhance the natural features of the face
– Promote skin tightening, firming, and toning
FACESTIM uses bipolar radiofrequency and muscle contractions based on
diathermocontraction. This combines diathermy (deep dermal heating) + deep muscle contraction that can reach the deeper layers of the muscles without causing any side effects.
Radiofrequency generates heat in the tissue, resulting in collagen denaturation. This helps produce new collagen formation that can help with tissue remodeling and shrinking of the lax connective tissue.
What FACESTIM® does is stimulate the inner facial muscles, while also improving the skin's texture and quality. By combining muscle contractions and radiofrequency heating, it can target the muscle fibers to strengthen them and optimize lymphatic drainage.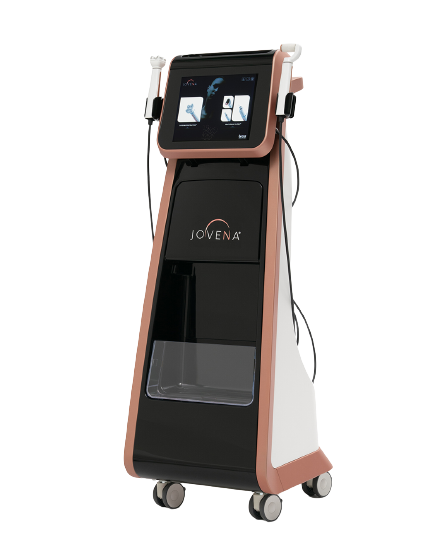 What are the benefits of FACESTIM® by Jovena?
Face sculpting with FACESTIM® provides a unique approach to facial rejuvenation by combining two patented procedures in one technology.
Benefits include:
– Lifted eyebrows for a fresher look
– Lifted mid-face and reduced nasolabial folds for a younger, healthier appearance
– Firmer jawline and neck area for a rejuvenated look
It is also a non-invasive treatment that:
– Is safe and well-tolerated by patients
– Has no side effects
– Has no downtime
– Helps prevent surgery
How many FACESTIM® will you need?
The recommended number of sessions is 3 to 5 with about 2 weeks intervals. This, however, can still depend on the age of the patient and their profile. For maintenance or touch-up treatments, one to two additional sessions performed every 3 to 4 months are recommended. You may be able to see visible results from the first sessions, with results lasting between 6 and 8 months.
What results can I expect?
FACESTIM® by Jovena elevates your beauty routine through the power of facial muscle stimulation. It offers an immediate lifting effect with a natural-looking appearance. It aims to restore the harmony of facial volume, while also improving the texture and appearance of the skin.
Can you combine FACESTIM® with other treatments?
Yes, you can combine FACESTIM® with dermal fillers or botulinum toxin. It can help restructure the face, allowing practitioners to use less fillers for face contouring and volumization, providing a more natural result. FACESTIM® by Jovena can also be combined with other devices and treatments such as radiofrequency microneedling, ultrasounds, or chemical peels allowing practitioners to enhance the final results.
Does the treatment hurt?
There is a slight sensation of heat and rhythmic contractions of the muscles, but this is well-tolerated by patients. A single session lasts between 20 and 60 minutes. Contact us to book your appointment or learn how face sculpting with FACESTIM® can give your face a workout, as well as a tightened, firm, and toned appearance.
Learn more about

Facestim

®




Watch this video